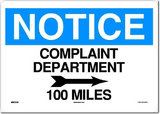 It seems to me that God should have a complaints department.  Somewhere to direct the constant stream of criticism, demands and complaints. Think about it, from the beginning of human existence we've been complaining to God.
In our lives we face complaints everywhere.  Complaints about what we're having for dinner.  Complaints about what we've done (or not done) at work. Complaints about Church and the service or the programs. Complaints… Complaints… Complaints…
This isn't new.  This has been going on for years.  The book of Exodus contains a story about a people who were saved from slavery and went on to complain bitterly about their new life.   For years they prayed to be freed.  When they got what they wanted it wasn't what they thought it would be, so they complained.
How many times has this happened in our own lives.  For years we complain.  We want to have our lives changed.  We want a new job.  We want a new relationship. We want new clothes.  We want, we want, and we want.  Yet when it happens we aren't satisfied.  When we get what we think we need, we're never happy.
In the story of the Samaritan woman at the well, Jesus tells us of living water.  The kind of water that fills the soul and brings contentment.  That
"…whoever drinks the water I give them will never thirst. Indeed, the water I give them will become in them a spring of water welling up to eternal life." (John 4:14 – NIV)
At first the woman didn't understand.  She thought he was offering something to make her life easier but through conversation and an eye opening revelation, the Samaritan woman came to see that Jesus offered contentment, forgiveness and grace.  Why did the Samaritan woman receive this gift?  Perhaps it's because she didn't complain.  She was open.  She was listening.  She wanted to hear what he was saying.
In our lives we forget sometimes the amazing gift we've been given in the love God offers.  We get wrapped up in our complaints.  We cry out about the injustice and forget to stop and take stock of the situation.  When we respond in frustration and anger, sometimes we miss the bigger picture.  Life is about more than what we want.  Life is about living.  Truly living in this world as Christ would have us live.  We are offered forgiveness.  We can be content.  We will find hope.  We just have to sit, listen and respond to God's direction.
Listening to God can be tough.  At times you might want to complain.  You might hate what God wants you to do, but if you follow you might find you've gone where you needed to go.  You've gone to a place where you can be content.  To a place where you'll find what you're looking for.
A Journey through Lent: Day 16